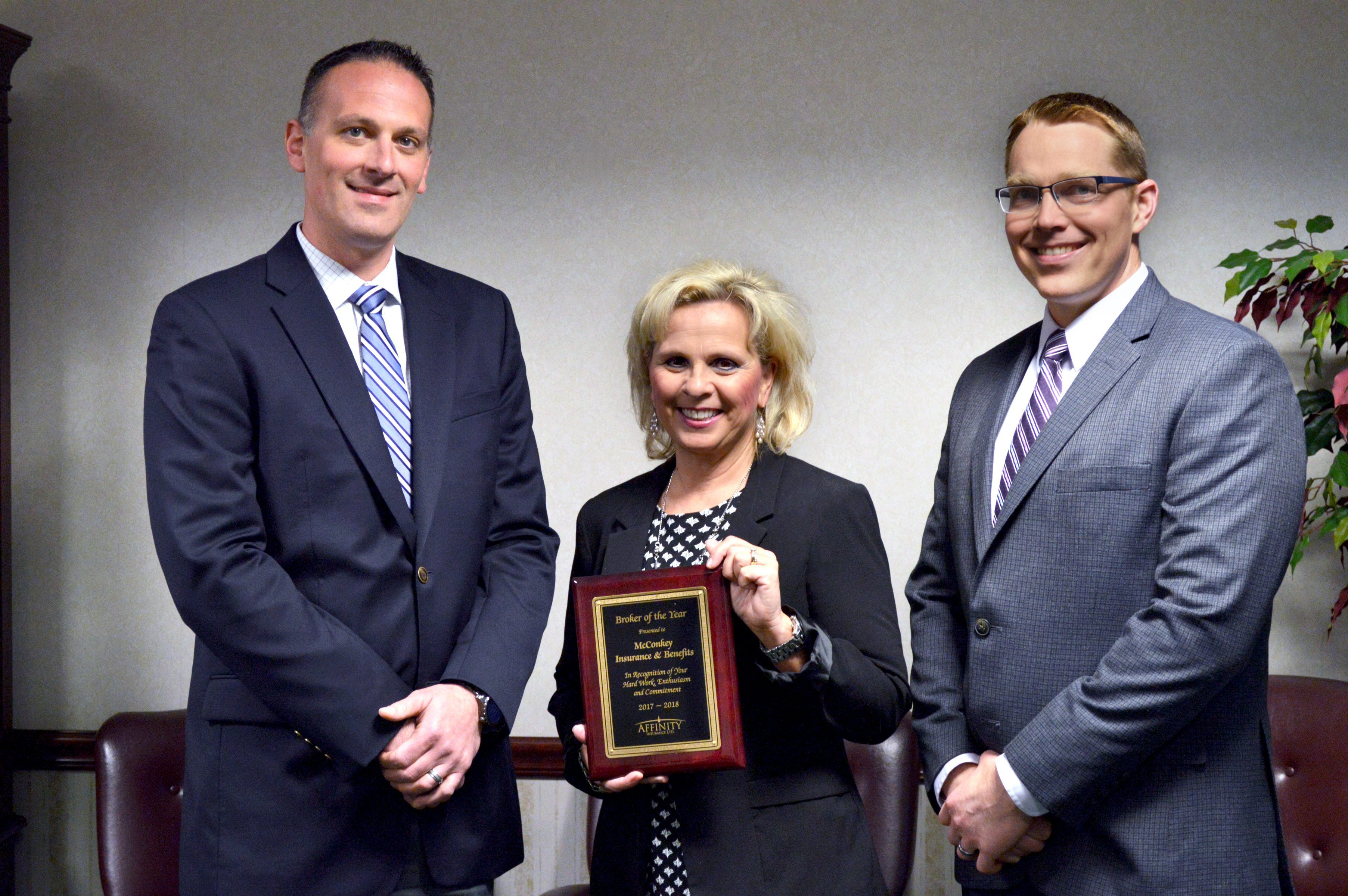 Pictured above: (L to R) Kurt Gehman, Gail Macharsky and Tim Ziegler, Business Insurance Executives for clients in the Affinity captive, pose with the Broker of the Year plaque.
Affinity Insurance Ltd. recently honored McConkey Insurance & Benefits as their 2018 Broker of the Year. Affinity is the world's largest heterogeneous insurance captive. Affinity has nearly 500 shareholders, has exceeded an annual premium of $300M and has generated more than $250M in dividends.
The Affinity Broker of the Year Award measures insurance brokers based on their client retention rate, excellent service levels and contributions to growth of the captive.
McConkey represents 21 member companies in the Affinity captive program.
"After many years in Affinity, it has absolutely controlled and reduced our costs, positively affecting our bottom line," said McConkey client, Dan Sunderland, Owner and President, Sun Motor Cars, Inc. "Since McConkey became our broker, our level of service has elevated. They work with us to foster a safer environment and help us aggressively manage our claims."
"McConkey has been representing Affinity for more than 20 years and we are extremely proud to be named their Broker of the Year," said Steve Buterbaugh, CEO/President, McConkey Insurance & Benefits.
For more information, please email Jen Schwarz, Marketing Communications Coordinator, at jschwarz@ekmcconkey.com.
About McConkey:
Since 1890, McConkey Insurance & Benefits has been providing financial security for businesses across the globe. Licensed in nearly all 50 states and with a client presence in over 20 countries, McConkey prides itself in being one of the Mid-Atlantic region's oldest and most respected insurance brokerage firms. In addition to their traditional insurance portfolio, McConkey specializes in alternative markets offering compliance, administration, brokerage, and actuarial services to businesses, groups and associations in the form of captive programs, self-insurance, consortiums and other unique products tailored to the risk tolerance of our clients. For more information about McConkey Insurance & Benefits, please call 717-755-9266 or visit at our website, LinkedIn or Facebook.